During this course, we will go over 10 high-level tips that have been consistent across most projects that achieve a low carbon status. This includes strategies with project teams, installation quality, product ideas, and operations as well! Many homes share similar approaches, what are they? We will cover single-family, multi-family, new, and existing homes. Tune in and learn how to make your next project, better!
Watch now for CEUS. Anytime, On your time!
Continuing Education Units (CEUS) 1 hour in
Green Business Certification Inc. (GBCI)
Building Performance Institute (BPI) NonWholeHouse
American Institute of Architects - AIA (HSW) 
Certified Green Professional (NARI & CGP)
Certified GreenHome Professional (CGHP)
AIBD
State Architect / Builder License may be applicable
Lessons Learned
-Understand the 10 basic tips and how to use them now
-Know where to get more information to achieve low carbon results
-Articulate how health and occupant welfare is usually also improved in low carbon homes
-Review strategies that can be used and different ways to utilize them
Session sponsor: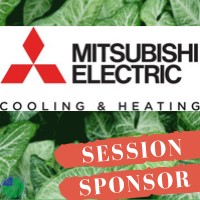 Mitsubishi Electric - https://www.mitsubishielectric.com/en/index.html
Watch now for CEUS. Anytime, On your time!
Instructor: Brett Little, LEED AP Homes, Certified GreenHome Professional
Brett Little is the Executive Director at GreenHome Institute (GHI), a nonprofit whose mission is to empower people to make healthier and more sustainable choices in the renovation and construction of the places we live in. Brett has served as Executive Director since 2011 but originally started his journey with GHI in 2008 as a volunteer. At GHI, Brett helps to instruct or moderate education sessions that are both online and in-person, oftentimes conducting more than 50 per year. In addition, Brett also serves as the LEED for Homes Quality Control Review Admin to ensure 100's of projects are up to LEED standards while locally serving as a LEED for Homes Green Rater on small, affordable housing projects in the Grand Rapids, Michigan area. Additionally, he helps administer Enterprise Green Communities on Low-income Housing Projects across the midwest region.
Watch now for CEUS. Anytime, On your time!